Would you like to visit Naples staying in an ancient and elegant Neapolitan home welcomed with warmth and privacy and, why not, by a good cup of our caffè espresso?
Casa12 is located in Corso Vittorio Emanuele, within the most exclusive area in town, S. Ferdinando-Chaia-Posillipo. We are talking about an area that is both central and peaceful at the same time, as a matter of fact, it is very well connected to both, the historical centre of town and the two funicular stations in Piazza Augusteo and Piazza Amedeo squares, the latter one, also connected to the metropolitan train station.
Chiaia is that area going from Posillipo down to Piazza Plebiscito, outlined by elegant streets and beautiful buildings, overlooking the scenic Via Caracciolo waterfront, it is exactly here that one of the most typical landscapes of this town begins.
The apartment is large and elegant and it is located on the lift serviced second floor with of an ancient and historical building under superintendence restraint.
The Story from 1865

The building, wanted by countess Giulia Brunas Serra in Lucchesi Palli, was completed in 1865 according to a project by architect Semeraro (the same architect who designed Galleria Principe Umberto in Naples).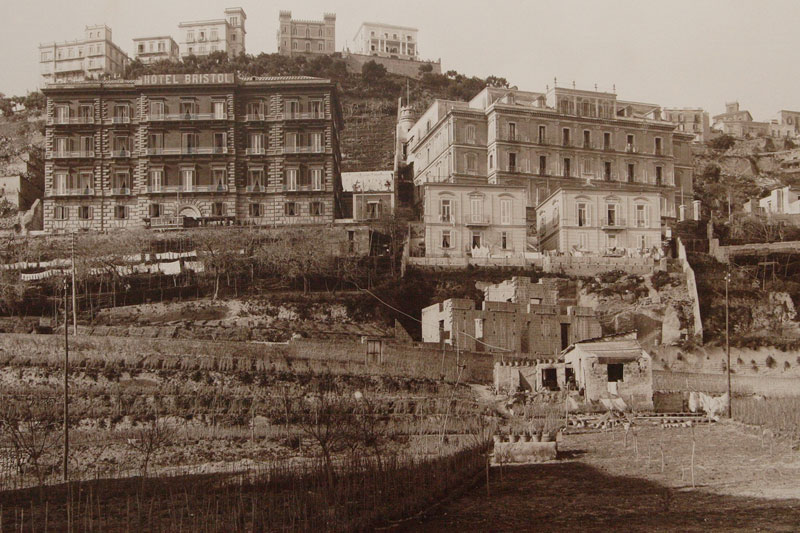 The entire building was used at first as a hotel and named "HOTEL BRISTOL". In 1917, because of the first world's war, the influx of tourists decreased (rumour had it that also St. Teresa was a guest of the hotel because she was waiting to be visited by the famous doctor Cardarelli), and the hotel was converted to a civil residence.